As the saying goes, April showers bring May flowers. Well, in New England it has been raining for the past week, and so I'm hoping that it will eventually get sunny and warm. If not, enjoy this virtual flower to make up for it 🙂
Anyways, April went really well for me (aside from failing tragically at Camp NaNoWriMo) and so I'm hoping that May will be equally as exciting. I have a lot of blogging goals, a huge TBR (for me), and other plans for the last full month of school. Since AP testing is over, I'm hoping that my schedule will open up and give me the time for everything.
After thinking about last month and writing this month's TBR, I feel like I'm being punished for the fact that I had all 4 and 5 star reads last month. The ones that I've already started for this month are not nearly as good. As always, cover links take you to Goodreads.
May TBR…
The Darkest Lies– I'm in the middle of this eARC right now. It comes out on the 12th, and so I'm hoping that I'll be able to finish it and write a review in time for its release. The mystery is good, but I'm not a huge fan of when it is written to a character in the novel, and so I'm not sure how this is going to work out.
The Orphan Master's Son– This is an audiobook that I've been listening to for a while, but it just expired and I have to renew it from the online library, which takes some time. It's interesting, but the writing style isn't my favorite.
I'll Give You the Sun– This book is AMAZING. I'm 2/3 of the way through already, but because it's a buddy read with my mom it's taking me longer. It is so emotional and has me crying and grinning wildly and all over the place because NoahandJude are perfectly imperfect and I adore them.
The Roanoke Girls– I received this book a while ago, and I'm hoping to actually start it this month. It seems like an exciting thriller/family drama, and I'm hoping to buddy read with Cassidy if she didn't go ahead on me.
Not the Only Sky– This book came out on April 27th, meaning that I'm way behind on my reading, since I got my copy off of Netgalley weeks ago. I put it aside because I would have never finished before the release date, and I decided to shoot for finishing The Darkest Lies instead. I'll start NtOS after I finish that one.
New Releases…
Into the Water (May 2nd)— Paula Hawkins is one of my favorite authors just based on her one book– The Girl on the Train– and so I'm very excited to see what her next book brings. If it's anything like Girl on the Train, I'm sure I'll love it.
A single mother turns up dead at the bottom of the river that runs through town. Earlier in the summer, a vulnerable teenage girl met the same fate. They are not the first women lost to these dark waters, but their deaths disturb the river and its history, dredging up secrets long submerged.
Left behind is a lonely fifteen-year-old girl. Parentless and friendless, she now finds herself in the care of her mother's sister, a fearful stranger who has been dragged back to the place she deliberately ran from—a place to which she vowed she'd never return.
Beware a calm surface—you never know what lies beneath.
Girl out of Water (May 2nd)— It's finally coming out!!!! This book was so so so cute and great and was one of the first ARCs I've ever read. You can read my full review here.
Anise Sawyer plans to spend every minute of summer with her friends: surfing, chowing down on fish tacos drizzled with wasabi balsamic vinegar, and throwing bonfires that blaze until dawn. But when a serious car wreck leaves her aunt, a single mother of three, with two broken legs, it forces Anise to say goodbye for the first time to Santa Cruz, the waves, her friends, and even a kindling romance, and fly with her dad to Nebraska for the entire summer. Living in Nebraska isn't easy. Anise spends her days caring for her three younger cousins in the childhood home of her runaway mom, a wild figure who's been flickering in and out of her life since birth, appearing for weeks at a time and then disappearing again for months, or even years, without a word.
Complicating matters is Lincoln, a one-armed, charismatic skater who pushes Anise to trade her surfboard for a skateboard. As Anise draws closer to Lincoln and takes on the full burden and joy of her cousins, she loses touch with her friends back home – leading her to one terrifying question: will she turn out just like her mom and spend her life leaving behind the ones she loves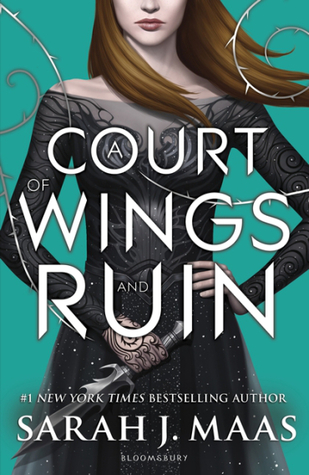 A Court of Wings and Ruin (May 2nd)— I won't be reading this one since I haven't read any others in the series, but I'm sure all you ACOTAR fans are excited.
Feyre has returned to the Spring Court, determined to gather information on Tamlin's maneuverings and the invading king threatening to bring Prythian to its knees. But to do so she must play a deadly game of deceit-and one slip may spell doom not only for Feyre, but for her world as well.
As war bears down upon them all, Feyre must decide who to trust amongst the dazzling and lethal High Lords-and hunt for allies in unexpected places.
In this thrilling third book in the #1 New York Times bestselling series from Sarah J. Maas, the earth will be painted red as mighty armies grapple for power over the one thing that could destroy them all.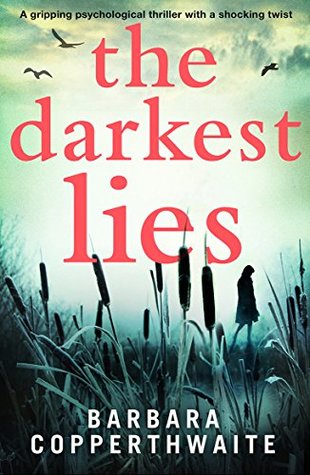 The Darkest Lies (May 12th)-– This is the same one that's on my TBR, so it seemed only appropriate to move it down here as well and give you the synopsis.
A mother desperate for the truth. A daughter hiding a terrible secret.
Melanie Oak appeared to have the perfect life. Married to her childhood sweetheart, Jacob, the couple live with their beautiful, loving, teenage daughter, Beth, in a pretty village.
Nothing can shake her happiness – until the day that Beth goes missing and is discovered beaten almost to the point of death, her broken body lying in a freezing creek on the marshes near their home.
Consumed with grief, Melanie is determined to find her daughter's attacker. Someone in the village must have seen something. Why won't they talk?
As Melanie tries to piece together what happened to Beth, she discovers that her innocent teenager has been harbouring some dark secrets of her own. The truth may lie closer to home and put Melanie's life in terrible danger…
A completely gripping psychological thriller with a twist you won't see coming.
Lord of Shadows (May 23rd)— This is another in a series, this one by Cassandra Clare. I didn't even know this series existed, but she's an incredible author so I wouldn't mind giving it a try.
Emma Carstairs has finally avenged her parents. She thought she'd be at peace. But she is anything but calm. Torn between her desire for her parabatai Julian and her desire to protect him from the brutal consequences of parabatai relationships, she has begun dating his brother, Mark. But Mark has spent the past five years trapped in Faerie; can he ever truly be a Shadowhunter again?
And the faerie courts are not silent. The Unseelie King is tired of the Cold Peace, and will no longer concede to the Shadowhunters' demands. Caught between the demands of faerie and the laws of the Clave, Emma, Julian, and Mark must find a way to come together to defend everything they hold dear—before it's too late.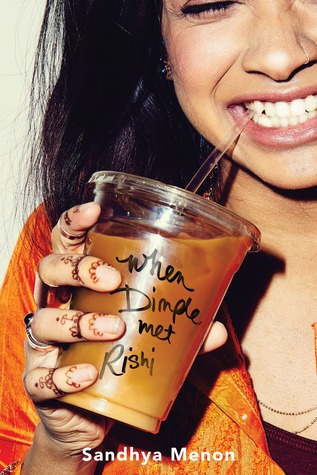 When Dimple Met Rishi (May 30th)— I only meant to have 5 upcoming releases on this list, but then I read the description for this book and I fell in love. It seems so fun and exciting and I really really want to read it, even more than I normally want to read YA books.
A laugh-out-loud, heartfelt YA romantic comedy, told in alternating perspectives, about two Indian-American teens whose parents have arranged for them to be married.
Dimple Shah has it all figured out. With graduation behind her, she's more than ready for a break from her family, from Mamma's inexplicable obsession with her finding the "Ideal Indian Husband." Ugh. Dimple knows they must respect her principles on some level, though. If they truly believed she needed a husband right now, they wouldn't have paid for her to attend a summer program for aspiring web developers…right?
Rishi Patel is a hopeless romantic. So when his parents tell him that his future wife will be attending the same summer program as him—wherein he'll have to woo her—he's totally on board. Because as silly as it sounds to most people in his life, Rishi wants to be arranged, believes in the power of tradition, stability, and being a part of something much bigger than himself.
The Shahs and Patels didn't mean to start turning the wheels on this "suggested arrangement" so early in their children's lives, but when they noticed them both gravitate toward the same summer program, they figured, Why not?
Dimple and Rishi may think they have each other figured out. But when opposites clash, love works hard to prove itself in the most unexpected ways.
Blogging Goals…
I didn't meet my 250 follower goal from last month, so I'm toning it down a bit and going with 275 this month. That's significantly less of an increase than before, and I think I'll be able to do it (with luck)
Buy some books. This is a weird goal for a book blogger but it's been a long time since I bought real, new books, and I feel like now is as good a time as any to splurge.
Catch up on book reviews and also writing posts in general. I'm so behind, with only 2 posts scheduled right now (I normally have 10), and 3 book reviews waiting patiently to be written. This pace cannot go on!!
I really want to edit/beta another story, so I'm looking for a client. I do paid work, but if anyone needs an editor I promise I'm pretty good and affordable!!
Giveaway Winner…
Congratulations to Febie for being our giveaway winner!! She requested Girl out of Water, so I hope she enjoys! Thank you to all who participated, and to all of you who follow me and allowed me to get to 200 followers and do this giveaway to begin with.
Book Blogger Awards Update…
Thank you to everyone who nominated people for the book blogger awards last month!! I'm currently organizing all of the votes and seeing who is winning for each category. I planned on doing a second round where you could vote on those who have already been nominated, to narrow it down, and I hope that that'll go live sometime in the next week or so. There were so many fabulous bloggers that I heard of for the first time because of these awards, and so I think I can consider it a success!
That's all for this month!
---
Check out my Social Media:
Twitter | Tumblr | Bloglovin' | Email | Goodreads | FictionPress
~ Now venture out and change the world ~