As you all probably know by now, I'm part of the #BroodyBFF team that is tasked with promoting @BroodingYAHero's new book, Becoming a Main Character.  Some of you might actually be lucky enough to have GOTTEN ARC COPIES at Bookcon/BEA, but unfortunately I'm not one of them, so I'm still eagerly awaiting a copy.  It is available to preorder, though, so the wait is shrinking rapidly.
While we wait, I'm going to take a look at some LGBTQ+ YA books that I think look AMAZING, since it's pride month and we should be sharing the love.  (I haven't read many of these books *cringes* but I did try to make sure there was no bad rep)
Stay tuned as I fill you in on all the books that Broody himself would adore, featuring all of the LGBTQ+ rep that you could want.
Far From You (Bi)— I came across this book a while back and put it on my TBR before I even realized that there was bisexual rep.  It looks like a super good teen thriller, so it's 100% one that I want to read.
Nine months. Two weeks. Six days.
That's how long recovering addict Sophie's been drug-free. Four months ago her best friend, Mina, died in what everyone believes was a drug deal gone wrong – a deal they think Sophie set up. Only Sophie knows the truth. She and Mina shared a secret, but there was no drug deal. Mina was deliberately murdered.
Forced into rehab for an addiction she'd already beaten, Sophie's finally out and on the trail of the killer—but can she track them down before they come for her?
Two Boys Kissing (Gay + Transgender Rep)– This is one of the only book on the entire list that I've actually read, but I am trying to find some more books with representation, since I realize reading about all straight cis characters is not the best thing to do.  This book was really, really gay, and it talked a lot about "we, the gays" and their overall struggle, something which I think was cool to put in a YA fiction book.  There was also transgender rep.  The friendship in thiss book was also ON POINT.
New York Times  bestselling author David Levithan tells the based-on-true-events story of Harry and Craig, two 17-year-olds who are about to take part in a 32-hour marathon of kissing to set a new Guinness World Record—all of which is narrated by a Greek Chorus of the generation of gay men lost to AIDS.
While the two increasingly dehydrated and sleep-deprived boys are locking lips, they become a focal point in the lives of other teen boys dealing with languishing long-term relationships, coming out, navigating gender identity, and falling deeper into the digital rabbit hole of gay hookup sites—all while the kissing former couple tries to figure out their own feelings for each other.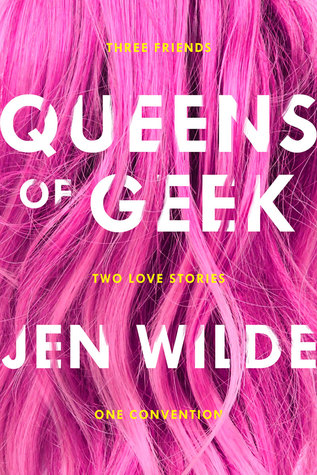 Queens of Geek (Bi I think)– This book looks SO FREAKIN' CUTE I JUST CAN'T.  It came out fairly recently and I've been eagerly awaiting its appearance in a cheap form that I can actually afford.  It's about a convention, friends, romance, and amazingness.
When BFFs Charlie, Taylor and Jamie go to SupaCon, they know it's going to be a blast. What they don't expect is for it to change their lives forever.
Charlie likes to stand out. SupaCon is her chance to show fans she's over her public breakup with co-star, Reese Ryan. When Alyssa Huntington arrives as a surprise guest, it seems Charlie's long-time crush on her isn't as one-sided as she thought.
While Charlie dodges questions about her personal life, Taylor starts asking questions about her own.
Taylor likes to blend in. Her brain is wired differently, making her fear change. And there's one thing in her life she knows will never change: her friendship with Jamie—no matter how much she may secretly want it to. But when she hears about the Queen Firestone SupaFan Contest, she starts to rethink her rules on playing it safe.
I'll Give You The Sun (Gay)– Here's the other book I've read.  I ADORED IT, and I'll be writing a real review soon, but basically it was amazing and one of the best YA books I've read in a very long time.
"We were all heading for each other on a collision course, no matter what. Maybe some people are just meant to be in the same story."
At first, Jude and her twin brother are NoahandJude; inseparable. Noah draws constantly and is falling in love with the charismatic boy next door, while daredevil Jude wears red-red lipstick, cliff-dives, and does all the talking for both of them.
Years later, they are barely speaking. Something has happened to change the twins in different yet equally devastating ways . . . but then Jude meets an intriguing, irresistible boy and a mysterious new mentor.
The early years are Noah's to tell; the later years are Jude's. But they each have only half the story, and if they can only find their way back to one another, they'll have a chance to remake their world.
This radiant, award-winning novel from the acclaimed author of The Sky Is Everywhere will leave you breathless and teary and laughing—often all at once.
Boy Meets Boy (Gay I assume)— David Levithan is my go-to, because I know he writes super cute books with good rep.  This one looks super unique because it's somewhere where being gay isn't a problem, which is something you don't often see (in lit or real life) but should be the norm.
This is the story of Paul, a sophomore at a high school like no other: The cheerleaders ride Harleys, the homecoming queen used to be a guy named Daryl (she now prefers Infinite Darlene and is also the star quarterback), and the gay-straight alliance was formed to help the straight kids learn how to dance.
When Paul meets Noah, he thinks he's found the one his heart is made for. Until he blows it. The school bookie says the odds are 12-to-1 against him getting Noah back, but Paul's not giving up without playing his love really loud. His best friend Joni might be drifting away, his other best friend Tony might be dealing with ultra-religious parents, and his ex-boyfriend Kyle might not be going away anytime soon, but sometimes everything needs to fall apart before it can really fit together right.
This is a happy-meaningful romantic comedy about finding love, losing love, and doing what it takes to get love back in a crazy-wonderful world.
Simon vs The Homo Sapiens Agenda (Gay)— This book has gotten such good reviews, and it looks really great… the basic concept is this kid juggling life while trying to keep his identity a secret, and also I really want to read this book.  It seems like a cliche high school situation, which is something Broody would love, and is the type of book I like to mix in every once in awhile.
Sixteen-year-old and not-so-openly gay Simon Spier prefers to save his drama for the school musical. But when an email falls into the wrong hands, his secret is at risk of being thrust into the spotlight. Now Simon is actually being blackmailed: if he doesn't play wingman for class clown Martin, his sexual identity will become everyone's business. Worse, the privacy of Blue, the pen name of the boy he's been emailing, will be compromised.
With some messy dynamics emerging in his once tight-knit group of friends, and his email correspondence with Blue growing more flirtatious every day, Simon's junior year has suddenly gotten all kinds of complicated. Now, change-averse Simon has to find a way to step out of his comfort zone before he's pushed out—without alienating his friends, compromising himself, or fumbling a shot at happiness with the most confusing, adorable guy he's never met.
So those are the 6 books that I want to read the absolute most (or already have read and loved)!! I know I don't have a lot of trans rep here, but since I know less people who could let me know whether or not it's good rep, I decided it was better just to leave them out.  Hopefully all of you have found at least one book on this list that you haven't read but really want to!  And if you didn't, there's always Broody's book to fall back on 😉
What LGBTQ+ books are on your TBR? Do you have any recommendations? Which of the books above did you most enjoy? Are you going to go buy Broody's new book?
---
~ Now Venture out and Change the World ~