This month, there aren't a ton of books that I found interesting to write down, but I did find a lot of great YA books, so although that's normally not my favorite genre, it seems like an awesome month for those who enjoy it.  OOH and there's historical fiction books that look SUPER GREAT and I can't wait to read them.  I have 8 books total to recommend to you all, so here we go!
Mystery / Thriller
MY SISTER'S BONES (JULY 11TH)– In the vein of Fiona Barton's The Widow and Renée Knight's Disclaimer, a psychological thriller about a war reporter who returns to her childhood home after her mother's death but becomes convinced that all is not well in the house next door—but is what she's seeing real or a symptom of the trauma she suffered in Syria?
The One Person You Should Trust Is Lying to You…
Kate has spent fifteen years bringing global injustice home: as a decorated war reporter, she's always in a place of conflict, writing about ordinary people in unimaginable situations. When her mother dies, Kate returns home from Syria for the funeral. But an incident with a young Syrian boy haunts her dreams, and when Kate sees a boy in the garden of the house next door—a house inhabited by an Iraqi refugee who claims her husband is away and she has no children—Kate becomes convinced that something is very wrong.
As she struggles to separate her memories of Syria from the quiet town in which she grew up—and also to reconcile her memories of a traumatic childhood with her sister's insistence that all was not as Kate remembers—she begins to wonder what is actually true…and what is just in her mind.
In this gripping, timely debut, Nuala Ellwood brings us an unforgettable damaged character, a haunting , humanizing look at the Syrian conflict, and a deeply harrowing psychological thriller that readers won't be able to put down.
This sounds heavy, but Zuky seemed to enjoy it (although she said it was a little dark) and so I think it deserves to be given a try.  I like dark, and the whole refugee/war thing is something that I would like to read more about, and in a thriller that could be super cool.  There's lots of triggers and stuff going on, but if you can get past that, and enjoy dark thrillers, it seems like this one should be read.
THE SECRETS SHE KEEPS (JULY 11TH)– In the bestselling tradition of The Girl on the Train and In a Dark, Dark Wood, from the internationally bestselling author whom Stephen King called "an absolute master" of the psychological thriller, comes a riveting suspense novel about the unlikely friendship between two pregnant women that asks: how far would you go to create the perfect family?
Agatha is pregnant and works part-time stocking shelves at a grocery store in a ritzy London suburb, counting down the days until her baby is due. As the hours of her shifts creep by in increasing discomfort, the one thing she looks forward to at work is catching a glimpse of Meghan, the effortlessly chic customer whose elegant lifestyle dazzles her. Meghan has it all: two perfect children, a handsome husband, a happy marriage, a stylish group of friends, and she writes perfectly droll confessional posts on her popular parenting blog—posts that Agatha reads with devotion each night as she waits for her absent boyfriend, the father of her baby, to maybe return her calls.
When Agatha learns that Meghan is pregnant again, and that their due dates fall within the same month, she finally musters up the courage to speak to her, thrilled that they now have the ordeal of childbearing in common. Little does Meghan know that the mundane exchange she has with a grocery store employee during a hurried afternoon shopping trip is about to change the course of her not-so-perfect life forever…
With its brilliant rendering of a shocking kidnapping plot and the secrets some women hold close, The Secrets She Keeps delivers a dark and twisted page-turner that is absolutely impossible to put down.
This sounds a lot like a Liane Moriarty book based on the description, and since I have adored both of her books that I've read, I really really want to give this one a shot.  I think the stalker concept in fiction is cool, and the "not as perfect as it seems" concept has always drawn me in.  Plus Stephen King blurbed it so like….!!!
Historical Fiction
THE DIPLOMAT'S DAUGHTER (JULY 11TH)– During the turbulent months following the 1941 bombing of Pearl Harbor, twenty-one-year-old Emi Kato, the daughter of a Japanese diplomat, is locked behind barbed wire in a Texas internment camp. She feels hopeless until she meets handsome young Christian Lange, whose German-born parents were wrongfully arrested for un-American activities. Together, they live as prisoners with thousands of other German and Japanese families, but discover that love can bloom in even the bleakest circumstances.
When Emi and her mother are abruptly sent back to Japan, Christian enlists in the US Army, with his sights set on the Pacific front—and, he hopes, a reunion with Emi—unaware that her first love, Leo Hartmann, the son of wealthy of Austrian parents and now a Jewish refugee in Shanghai, may still have her heart.
Fearful of bombings in Tokyo, Emi's parents send her to a remote resort town in the mountains, where many in the foreign community have fled. Cut off from her family, struggling with growing depression and hunger, Emi repeatedly risks her life to help keep her community safe—all while wondering if the two men she loves are still alive.
As Christian Lange struggles to adapt to life as a soldier, his unit pushes its way from the South Pacific to Okinawa, where one of the bloodiest battles of World War II awaits them. Meanwhile, in Japanese-occupied Shanghai, as Leo fights to survive the squalor of the Jewish ghetto, a surprise confrontation with a Nazi officer threatens his life. For each man, Emi Kato is never far from their minds.
Flung together by war, passion, and extraordinary acts of selflessness, the paths of these three remarkable young people will collide as the fighting on the Pacific front crescendos. With her "elegant and extremely gratifying" (USA Today) storytelling, Karin Tanabe paints a stunning portrait of a turning point in history.
WWII HISTORICAL FICTION AND A LOVE STORY WHAT MORE COULD YOU WANT. I'm dying to read this and I just heard about it 30 seconds ago.  The whole Pearl Harbor internment camp thing makes me sick, and I've always loved reading about books of the people who were imprisoned.  I can't wait.
THE LIFE SHE WAS GIVEN (July 25th)— From acclaimed author Ellen Marie Wiseman comes a vivid, daring novel about the devastating power of family secrets–beginning in the poignant, lurid world of a Depression-era traveling circus and coming full circle in the transformative 1950s.
On a summer evening in 1931, Lilly Blackwood glimpses circus lights from the grimy window of her attic bedroom. Lilly isn't allowed to explore the meadows around Blackwood Manor. She's never even ventured beyond her narrow room. Momma insists it's for Lilly's own protection, that people would be afraid if they saw her. But on this unforgettable night, Lilly is taken outside for the first time–and sold to the circus sideshow.
More than two decades later, nineteen-year-old Julia Blackwood has inherited her parents' estate and horse farm. For Julia, home was an unhappy place full of strict rules and forbidden rooms, and she hopes that returning might erase those painful memories. Instead, she becomes immersed in a mystery involving a hidden attic room and photos of circus scenes featuring a striking young girl.
At first, The Barlow Brothers' Circus is just another prison for Lilly. But in this rag-tag, sometimes brutal world, Lilly discovers strength, friendship, and a rare affinity for animals. Soon, thanks to elephants Pepper and JoJo and their handler, Cole, Lilly is no longer a sideshow spectacle but the circus's biggest attraction. . .until tragedy and cruelty collide. It will fall to Julia to learn the truth about Lilly's fate and her family's shocking betrayal, and find a way to make Blackwood Manor into a place of healing at last.
Moving between Julia and Lilly's stories, Ellen Marie Wiseman portrays two extraordinary, very different women in a novel that, while tender and heartbreaking, offers moments of joy and indomitable hope.
I have a weird affinity for circus books, not sure why but I always seem to pick them out of the pile.  This one also happens to be historical fiction, another one of my favorites, and so LOVE LOVE LOVE I can't wait for it to come out and for me to get it.
Adult Contemporary
GOODBYE, VITAMIN (JULY 11TH)– A young woman returns home to care for her failing father in this fine, funny, and inescapably touching debut, from an affecting and wonderfully original new literary voice.
A few days after Christmas in a small suburb outside of L.A., pairs of a man's pants hang from the trees. The pants belong to Howard Young, a prominent history professor, recently diagnosed with Alzheimer's disease. Howard's wife, Annie, summons their daughter, Ruth. Freshly disengaged from her fiance and still broken up about it, feeling that life has not turned out quite the way she planned, thirty-year-old Ruth quits her job and arrives home to find her parents' situation worse than she'd realized. Her father is erratically lucid and her mother, a devoted and creative cook, sees the sources of memory loss in every pot and pan. But as Howard's condition intensifies, the comedy in Ruth's situation takes hold, gently transforming her grief. She throws herself into caretaking: cooking dementia-fighting meals (a feast of jellyfish!), researching supplements, anything to reignite her father's once-notable memory. And when the university finally lets Howard go, Ruth and one of her father's handsome former students take their efforts to help Howard one step too far.
Told in captivating glimpses and drawn from a deep well of insight, humor, and unexpected tenderness, Goodbye, Vitamin pilots through the loss, love, and absurdity of finding one's footing in this life.
I had a really difficult time finding an adult contemporary book to write down on this list.  In the end, I went with this one because… well… it's the only book I could find that fit this genre.  It sounds like a tough read, but apparently there's "comedy" so maybe it'll be good. I personally won't read it but someone should give it a try and let me know.
YA / Teen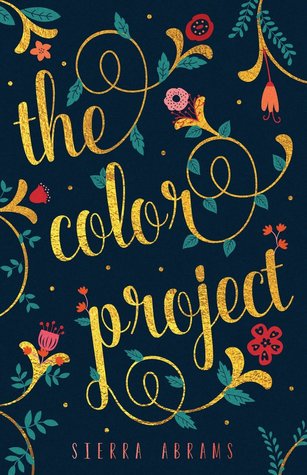 THE COLOR PROJECT (JULY 18TH)– Bernice Aurora Wescott has one thing she doesn't want anyone to know: her name. That is, until Bee meets Levi, the local golden boy who runs a charity organization called The Color Project.
Levi is not at all shy about attempting to guess Bee's real name; his persistence is one of the many reasons why Bee falls for him. But while Levi is everything she never knew she needed, giving up her name would feel like a stamp on forever. And that terrifies her.
When unexpected news of an illness in the family drains Bee's summer of everything bright, she is pushed to the breaking point. Losing herself in The Color Project—a world of weddings, funerals, cancer patients, and hopeful families that the charity funds—is no longer enough. Bee must hold up the weight of her family, but to do that, she needs Levi. She'll have to give up her name and let him in completely or lose the best thing that's ever happened to her.
For fans of Stephanie Perkins and Morgan Matson, THE COLOR PROJECT is a story about the three great loves of life—family, friendship, and romance—and the bonds that withstand tragedy.
I follow Sierra on Twitter and she's super nice and amazing and so it makes me really want to read her book!! I'm 90% sure that this is a debut, so it's super important to go out and support it.  This book sounds very character-centric and cute yet difficult, so I'm super excited!!!
CHANGES IN LATITUDE (JULY 25TH)– A "road" trip romance that takes place at sea!
All Cassie wants is to get some solid ground under her feet following the shock of her parents' divorce. So when she learns of her mom's plans to take Cassie and her brother, Drew, on a four-month sailing trip from Oregon to Mexico, she's stunned. There is absolutely nothing solid about the Pacific Ocean.
Cassie is furious. And nervous. It's been hard enough keeping Drew sheltered from what Cassie knows about her mother's role in breaking their family apart, but living in such close quarters threatens to push her anger past its tipping point. Enter Jonah, a whip-smart deckhand who's as gorgeous as he is flirtatious. Cassie tries to keep him at a distance, but the more time they spend together–wandering San Francisco, riding beachside roller coasters, and exploring the California coastline–the harder it is to fight the attraction.
​Cassie wants to let herself go, but her parents' split has left her feeling adrift in a sea of questions she can't even begin to answer. Can she forgive her mom? Will home ever feel the same? Should she take a chance on Jonah? With life's unpredictable tides working against her, Cassie must decide whether to swim against them… or dive right in.
This is the PERFECT summer read so it's perfect that it's coming out this month.  It looks like such a cliche teen read but with an element of familial heartbreak that normally makes me fall in love with a book more than I would otherwise.  Plus the entire synopsis is full of puns, meaning that there's probably a pretty good sense of humor in the book.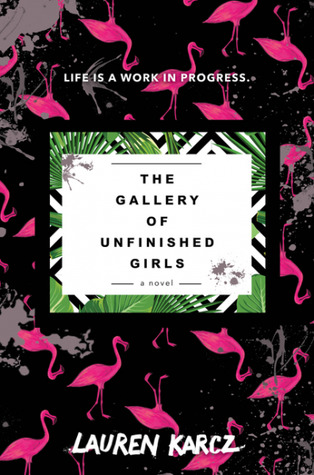 THE GALLERY OF UNFINISHED GIRLS (JULY 25TH)– Mercedes Moreno is an artist. At least, she thinks she could be, even though she hasn't been able to paint anything worthwhile since her award-winning piece Food Poisoning #1 last year.
Her lack of inspiration might be because her abuela is lying comatose in faraway Puerto Rico after suffering a stroke. Or the fact that Mercedes is in love with her best friend, Victoria, but is too afraid to admit her true feelings.
Despite Mercedes's creative block, art starts to show up in unexpected ways. A piano appears on her front lawn one morning, and a mysterious new neighbor invites Mercedes to paint with her at the Red Mangrove Estate.
At the Estate, Mercedes can create in ways she never has before. She can share her deepest secrets and feel safe. But Mercedes can't take anything out of the Estate, including her new-found clarity. As her life continues to crumble around her, the Estate offers more solace than she could hope for. But Mercedes can't live both lives forever, and ultimately she must choose between this perfect world of art and truth and a much messier reality.
Legit this sounds incredible, my favorite one on the list thus far… it sounds super down to earth contemporary while being about art, which isn't typical or overdone, and there MC is lesbian (or maybe bi/pan) which is awesome and also super far from overdone.  And Mercedes is an awesome name which is what drew me in in the first place.  I'm 150%  going onto Netgalley to see if I can get a copy*.  I'll probably end up buying it eventually if I don't.
*UPDATE: I requested on Edelweiss so pray for me!
What books are you looking forward to this month?  Have you gotten ARCs of any on the list? Which ones look the best to you?
~ Now Venture out and Change the World ~