I know this post is really late, and so about half of these are already published, but I wanted to make sure I gave all of the August books a chance at fame*.  So, halfway through the month, we're going to celebrate all of the August releases.  I have to admit, I'm VERY excited about all of these books even though I haven't read a single one!
*ha, I'm assuming that my blog would help a book sell
Young Adult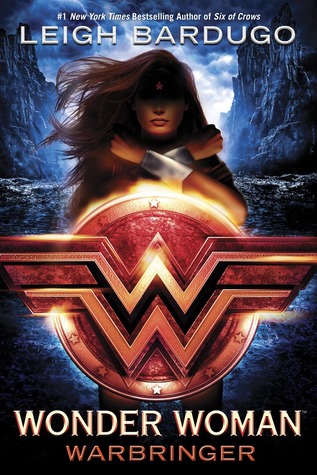 Wonder Woman, by Leigh Bardugo—  I've heard A LOT of hype about this book, and after watching the Wonder Woman movie, I really want to hear this take.  Obviously it's not quite the same story, but it sounds amazing, and I've heard it's a must read for DC fans!
She will become one of the world's greatest heroes: WONDER WOMAN. But first she is Diana, Princess of the Amazons. And her fight is just beginning. . . .
Diana longs to prove herself to her legendary warrior sisters. But when the opportunity finally comes, she throws away her chance at glory and breaks Amazon law—risking exile—to save a mere mortal. Even worse, Alia Keralis is no ordinary girl and with this single brave act, Diana may have doomed the world.
Alia just wanted to escape her overprotective brother with a semester at sea. She doesn't know she is being hunted. When a bomb detonates aboard her ship, Alia is rescued by a mysterious girl of extraordinary strength and forced to confront a horrible truth: Alia is a Warbringer—a direct descendant of the infamous Helen of Troy, fated to bring about an age of bloodshed and misery.
Together, Diana and Alia will face an army of enemies—mortal and divine—determined to either destroy or possess the Warbringer. If they have any hope of saving both their worlds, they will have to stand side by side against the tide of war.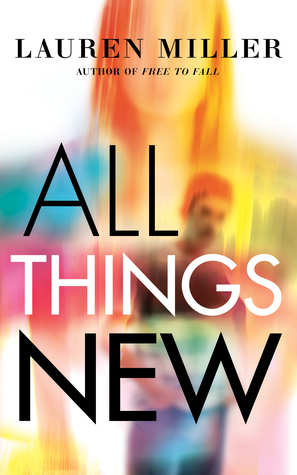 All Things New, by Lauren Miller–– This book sounds TOUGH but really good at the same time.  It could definitely go either way but I feel like it'll be emotional wreck of a book that I can't put down.
Jessa has always felt broken inside, but she's gotten very good at hiding it. No one at school knows about the panic attacks, the therapy that didn't help, the meds that haven't worked. But when a severe accident leaves her with a brain injury and visible scars, Jessa's efforts to convince the world that she's okay finally crumble—now she looks as shattered as she feels. 
Fleeing from her old life in Los Angeles, Jessa moves to Colorado to live with her dad, where she meets Marshall, a boy whose kindness and generous heart slowly draw Jessa out of her walled-off shell and into the broken, beautiful, real world—a place where souls get hurt just as badly as bodies, and we all need each other to heal.
ALL THINGS NEW is a love story about perception and truth, physical and emotional pain, and the messy, complicated people we are behind the masks we put on for the world, perfect for fans of ALL THE BRIGHT PLACES and THE FAULT IN OUR STARS.
Adult Contemporary
The One that Got Away, by Melissa Pimentel— This SOUNDS ADORABLE and perfectly romantically fun.  I love "one that got away" stories, and this literally has that title, so why wouldn't I read it?!?!? It seems like a perfect light read and I'm looking forward to seeing what other people think.
Ruby and Ethan were perfect for each other. Until the day they suddenly weren't.
Ten years later, Ruby's single, having spent the last decade focusing on her demanding career and hectic life in Manhattan. There's barely time for a trip to England for her little sister's wedding. And there's certainly not time to think about seeing Ethan there for the first time in years.
But as the family frantically prepare for the big day, Ruby can't help but wonder if she made the right choice all those years ago? Because there's nothing like a wedding for stirring up the past . . . 
The Burning Girl, by Claire Messud— I can't quite tell if this is adult or YA, but Goodreads is telling me adult so we'll go with it.  Apparently Messud is an amazing author, and this book sounds really emotional and profound which I love.
Julia and Cassie have been friends since nursery school. They have shared everything, including their desire to escape the stifling limitations of their birthplace, the quiet town of Royston, Massachusetts. But as the two girls enter adolescence, their paths diverge and Cassie sets out on a journey that will put her life in danger and shatter her oldest friendship.
Claire Messud, one of our finest novelists, is as accomplished at weaving a compelling fictional world as she is at asking the big questions: To what extent can we know ourselves and others? What are the stories we create to comprehend our lives and relationships? Brilliantly mixing fable and coming-of-age tale, The Burning Girl gets to the heart of these matters in an absolutely irresistible way.
Thriller
Emma In The Night, by Wendy Walker— aaaaah you can't even understand how good this sounds. Dysfunctional family thrillers are my absolute favorite because they're so twisted and messed up and exciting.  Plus it's about girls and doesn't have girl in the title so BONUS POINTS FOR CREATIVITY, WENDY!
From the bestselling author of All Is Not Forgotten comes a thriller about two missing sisters, a twisted family, and what happens when one girl comes back…
One night three years ago, the Tanner sisters disappeared: fifteen-year-old Cass and seventeen-year-old Emma. Three years later, Cass returns, without her sister Emma. Her story is one of kidnapping and betrayal, of a mysterious island where the two were held. But to forensic psychiatrist Dr. Abby Winter, something doesn't add up. Looking deep within this dysfunctional family Dr. Winter uncovers a life where boundaries were violated and a narcissistic parent held sway. And where one sister's return might just be the beginning of the crime.
The Readymade Thief, by Augustus Rose— This sounds hecka good, and has a super unique plot, which is something that you don't find very often in a thriller.  I love the whole idea of it, and the female protag thing is always a bonus for me (although apparently that's become a bit of a readily repeated trope now that people hate, but ROLL WITH ME HERE)…. and it looks like it's set up for ROMANCE!
Lee Cuddy is seventeen years old and on the run. Betrayed by her family after taking the fall for a friend, she finds refuge in a cooperative of runaways holed up in an abandoned building they call the Crystal Castle, but the façade of the Castle conceals a far more sinister agenda, one hatched by a society of fanatical men set on decoding a series of powerful secrets hidden in plain sight. They believe Lee holds the key to it all.
Aided by Tomi, a young hacker and artist with whom she has struck a wary alliance, Lee escapes into the unmapped corners of the city—empty aquariums, deserted motels, patrolled museums, and even the homes of vacationing families, but the deeper she goes underground, the more tightly she finds herself bound in the strange web she's trying to elude. Desperate and out of options, Lee steps from the shadows to face who is after her—and why.
What books are you looking forward to for this month? Have you read any of the ones I talked about? 
---
~ Now Venture out and Change the World ~