We're in the final stretch until Christmas Day!!
If you've missed the first couple editions of EYE (end of year extravaganza) (idk why I'm suddenly trying to be cool and come up with acronyms) (I just used two three parenthesis in a row help me) you can catch up on them here:
Today also happens to be the day of my LAST FINAL for the semester and I could not be more ready to be done with school. It's my very first semester at college and I'm so happy of all that I accomplished…
Anyways, today's post is brought to you by Top 5 Wednesday, a Goodreads group/ weekly meme hosted by Samantha on ThoughtsonTomes, where your goal is to find 5 books, topics, or general things that fit the theme!  To find the full list of topics, information, and pretty much anything else regarding T5W, head over to Goodreads
The theme this week is Characters on Your Naughty List, which I love because I can think of so many 😉 here we go!
1. Professor Umbridge (Harry Potter)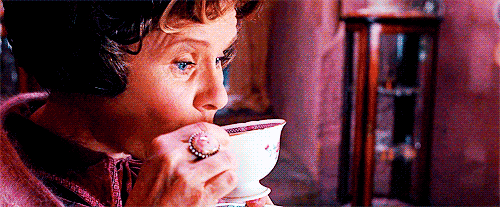 I'm willing to bet a lot that this character will be the most popular of the day.  I mean, not only is she THE WORST POSSIBLE LITERARY CHARACTER IN EXISTENCE but she's also the most widely hated.  There was not one single redeemable quality about Umbridge, so even if Santa was in a particularly forgiving mood, she would still be getting coal in her stocking.
2. Minya (Strange the Dreamer)
I cannot even explain to you how much I hate Minya.  I don't want to spoil anything, because it's a relatively new book, but if you've read it you'll be sure to agree with me. Everything about her personality is just so overwhelmingly UNBEARABLE for no good reason that it hurts.
3. Margo Roth Spiegelman (Paper Towns)
(disclaimer: I never actually watched the movie and I adore Cara Delevingne but I'm sure Margo is just as intolerable of an individual)
Can you get any worse than this child? Spoiled, self centered, and ignorant, I want to punch her in the face the entire time.  The fact that Quentin was in love with her physically hurt, because he could so obviously do so much better.
4. Grandad (The Roanoke Girls)
If you've read this book you'll know why. No further explanation needed
5. Ty (Stolen)
aight, so Gemma could also be on this list.  I hate them both WITH A PASSION, although Ty is objectively worse, which is why he's the headliner.  This entire book drove me up the wall, because they were the only two characters and they both made me want to scream with rage every single time they opened their mouths (is that a real word?) or so much as thought something.  Would not recommend the book, purely because of that experience.
What characters do you think deserve to be on the naughty list? How excited are you for Christmas? Read (or wrote) any great Blogmas posts lately-??- comment the link below to see them featured in next week's post!!
---
Check out my Social Media:
Twitter | Bloglovin' | Email | Goodreads | FictionPress
~ Now Venture out and Change the World ~